New Year's Resolutions – Restore Your Hair & Your Self-Confidence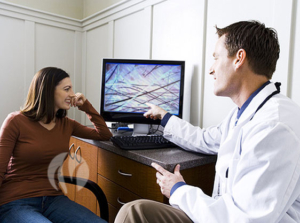 Starting off the new year always comes with a host of New Year's resolutions. Some may include going to the gym or eating healthier. But if you are a man or woman who hates to look in the mirror because all you can fixate on is how thin your hair has become, the New Year is the perfect time to finally do something about your hair loss and restore a full head of amazingly great looking hair in the latest styles or in your old favorite style.
If you are a man or woman in the Central Ohio area who is suffering from thinning hair and balding, we've gathered some information for you to help you make that decision to finally do something about it and do something for you.
How Badly Does Hair Loss Really Bother You?
Yes, it may be true that hair loss may not seem like a big deal when you compare it to some of the other types of health issues people face. If you take a look back through history, you will see that our hair has always been important. People will often judge your health by how your hair looks. Our hair can make us feel great, just think back to your last good hair day and you see what we mean. Your confidence level goes up when you have great looking hair.  And people more often than not make an initial judgement about us based on our appearance – whether we look healthy and fresh.  Hair loss can make you look 10 years older than you are (or feel).
A dermatologist and Harvard Medical School instructor Maryanne Senna, MD, who specializes in hair loss from an evolutionary perspective say that having hair that is thick and luscious has traditionally been a sign of youth, fitness, and good health. For a person to lose their hair it can be difficult to accept and for women, it can be even more detrimental to their self-esteem.
Hair Loss: What Can You Do?
Some people that have thinning hair may turn to the latest fad. Whether it be a new supplement or shampoo that comes with a promise of working or going on the internet where there is no shortage of information that is questionable at best. It's a natural reaction to want to find a cure for your thinning hair. The problem with hair loss is that it is often tied to underlying genetic or medical issues. To really find a treatment that will work you need to first find out the real cause of your hair loss.
Some of the reasons that people in the midwest, as elsewhere, may develop hair loss can range from stress, autoimmune disorders, hormonal imbalances, and many, many other causes. By seeing a hair loss specialist, they can help you find the real cause of your hair loss, and help you find the right solution that not only will restore your hair but increase your self-esteem.
What Hair Loss Treatments are Available?
Today more than ever there are many different hair replacement and hair restoration options for men and women. They range from non-surgical hair replacement for men to Platelet Rich Hair (EPT) Hair Therapy, as well as amazing wigs for children with hair loss or who may be suffering from Trichotillomania. If you are one of the many men and women with thinning hair and are looking for a solution, we encourage you to let us help you. We have proven and effective hair replacement and hair restoration solutions that can make you love your hair again.
Are you ready to do something about your hair loss?  Give us a call today and schedule a free, no-obligation hair loss consultation. Call 419-922-9300 now to get started on your journey to great looking hair and amazing self-confidence.
http://www.vanscoyhair.com/wp-content/uploads/2021/04/hair-loss-treatment-restoration-cleveland-columbus-ashland-ohio.png
0
0
vanscoyhair
http://www.vanscoyhair.com/wp-content/uploads/2021/04/hair-loss-treatment-restoration-cleveland-columbus-ashland-ohio.png
vanscoyhair
2022-03-16 14:00:59
2022-03-16 14:02:57
Dealing With Hair Loss – New Year, New You