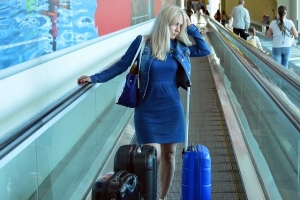 During the holidays, everyone wants his or her hair to be on point. Hair stylists are likely to see an uptick in last-minute appointments as people prepare for holiday parties and galas. However, the holidays also bring many surprise stress triggers, some of which can affect the luster of your hair. Let's explore the science behind dull hair during the holidays and how you can keep your lock healthy and strong all season long.
How Does Stress Dull Hair?
When you're operating at 100 percent, your body is constantly producing new hair growth. Stress shuts down unnecessary functions, and unfortunately the body doesn't put hair first. Under extreme stress, hair will cease to regrow as natural shedding occurs. This can leave your locks dull and thinned out, not something you hope for during the holiday season.
What Contributes to Holiday Stress?
While the holiday period is generally seen as a fun-filled time of year, there are plenty of things that can cause stress.
Over-indulgence in rich treats and drinks can often leave people feeling full, bloated and ready for their New Year's resolution. Thinking about the extra calories taken in during the holidays can cause major stress.
Too many obligations to family, friends and co-workers can put your body out of whack. The holidays often bring a fuller schedule, money woes and last-minute shopping trips that can all be huge contributors to end-of-the-year stress.
The holiday season can also lead to eating more carbs or consuming more alcohol. Studies show alcohol can be one of the causes of hair loss. If you're already stressed, this can be a one-two punch to your follicles.
Tips to Combat Dull Holiday Hair
The holidays don't have to be a stressful time. The number one thing you can do is schedule some self-care time. Whether it be relaxing with a hair mask, or using that deep conditioning treatment you've been waiting on all year, make sure to take some time away from the hustle and bustle to focus on yourself.
Shouldering all of that stress isn't healthy. Reach out to friends or family and ask for help if you need it. With more people taking care of the hard parts of the holiday, you can ease stress and make sure your hair shines.
The Bottom Line
Hair health can often be overlooked, but holiday stress can have a real impact on how your hair looks, feels and grows. Try tactics to reduce stress and reap the benefits to your hair and overall health all season long.
Holiday stress can cause dull hair but if you're suffering from hair loss that is a year round problem. Don't let another year go by without doing something about it. At Van Scoy Hair Clinics we have helped thousands of Ohio area men, women, and children suffering from hair loss, regardless of the cause of it. To schedule a free consultation call us at (419) 289-6665 or to contact us via email click here.
Photo Credit: quinntheislander Via Pixabay
https://www.vanscoyhair.com/wp-content/uploads/2019/12/holidays.jpg
426
640
vanscoyhair
http://www.vanscoyhair.com/wp-content/uploads/2021/04/hair-loss-treatment-restoration-cleveland-columbus-ashland-ohio.png
vanscoyhair
2019-12-07 09:14:28
2021-04-19 15:54:48
Are the Holidays Dulling Your Hair?