About Us
Proven Hair Loss Solutions for Over 50 Years
EXPERT HAIR LOSS SOLUTIONS FOR MEN & WOMEN
Ohio Hair Loss Treatment Specialists
Great Hair Starts Here.
Van Scoy Hair Clinics started as and continues to be a family-run business. Our first location was opened by Dennis and Sandra Van Scoy in Ashland, Ohio, in 1969. Since then, they have opened two new locations in Columbus and Cleveland with the help of their sons, Scott and Todd. The Van Scoy family takes pride in associating their name with their clinics' services and providing the most advanced hair loss treatments available.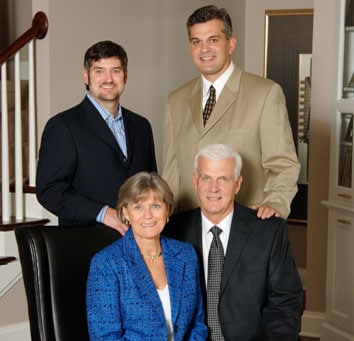 We're in the business of helping our clients feel like themselves. Our professionalism, coupled with our experience, make us Ohio's leader in hair loss treatments, and our three locations in Ashland, Cleveland and Columbus allow us to provide hair loss treatments to clients all over the state.
Hair restoration is the Van Scoy family's passion. Helping our clients find solutions that fit their particular type of hair loss as well as their budget is our specialty. We pride ourselves in managing expectations of our hair loss treatments. We can provide excellent results, but we'll always be honest about what we have the ability to provide for you.
Hair restoration is certainly an art form. As each client is unique, so is their treatment and experience. The Van Scoy family has spent more than 44 years learning to address the specific needs of individuals, and we've spent more than 44 years seeing how devastating hair loss can be for patients. It is our goal to provide the best possible results for men and women who are suffering from a variety of hair loss causes, from heredity to chemotherapy to alopecia.
We specialize in both surgical and non-surgical hair loss treatments. Our PAI Medical surgeon provides hair transplants full time, providing the most advanced options in Multi-Unit Hair Grafting. From management of hair loss products to human hair wigs to the latest technologies in hair replacement options, Van Scoy will match you with your ideal hair restoration solution.
Our compassionate and experienced staff of professionals is passionate about helping you feel and look like yourself again.
Discover Your Perfect Hair Loss Solution