Men's Hair
Restoration
Proven Hair Loss Solutions for Men of All Ages & Hair Types
The Perfect Non-Surgical Men's Hair Restoration System for Men of All Ages
Cyberhair Men's Hair Restoration
CyberHair Men's Hair Replacement
CYBERHAIR is a hair replacement system that is specifically for men with active lifestyles. You can play basketball, run, go in the sauna with Cyberhair. Men's Cyberhair hair replacement uses an advanced technology to create hair that's stronger, more durable and softer than many natural hair pieces.
Cyberhair is a new innovation in hair systems, spun from scientific technology. It has many desirable qualities: durability, uniformity, lightness, softness, body and lift, and memory retention.
The Latest in Men's Hair Restoration and Replacement Technology in Cleveland, Ashland, and Columbus, Ohio
CyberHair Men's Hair Restoration and Replacement can become a very natural part of you. It's just like your own hair moving and blowing in the breeze. You can drive your convertible with its top down, you can swim in your pool, you can shower, or sleep with it because Cyberhair has the characteristics of human hair. Cyberhair absorbs water, reflects light naturally and is easy to handle.
It's high tech hair that looks like strong, healthy hair, except for one thing – Cyberhair may actually be better. Because it's so much like your
own hair, it will appear as though it's growing right from the scalp. It's lighter in weight, more colorfast, has better curl retention and is more durable than other types of hair (human or man-made). It has built in "style memory" that actually makes it easier to maintain than your own hair.
Cyberhair's has a radiance with rich natural hues that will give you more confidence and choices. Go to a whole new level with the resilient, intuitive hair and join men and women from around the globe who have made their hair an asset.
Call our hair restoration experts today in Cleveland, Columbus or Ashland, Ohio to learn more about Cyberhair so you can see and feel the difference.
CYBERHAIR AT A GLANCE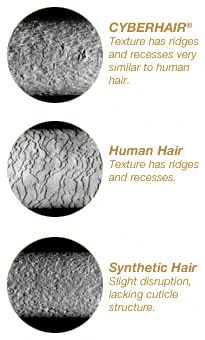 What Makes CyberHair So Special for Men in in the Cleveland, Columbus and Ashland, Ohio area?
MOST COLORFAST
Laboratory Xenon Tests confirm that Cyberhair has a higher level of fade resistance than other alternatives.
LIGHTNESS IN WEIGHT
Tests prove that Cyberhair is more than 10% lighter than other hair. In fact, Cyberhair is 18% lighter than Polyester synthetic fiber, 11% lighter
than Modacrylic synthetic fiber and 14% lighter than processed human hair. The lighter the hair, the more comfort for you.
MOISTURE CONTENT
Because of the high content of moisture in Cyberhair , when wet or dry the hair feels and responds like healthy human hair. This high moisture content also helps eliminate frizzing.
CURL RETENTION
Cyberhair has "style memory". This allows for hot showers and hair dryers to be used on Cyberhair without losing it's style.
DURABILITY
Sstrength tests show that Cyberhair ranks the highest against other fibers, including human hair. Cyberhair has twice the durability of
processed human hair. This means Cyberhair can withstand more stress.
Contact the Van Scoy Hair Clinic near you, in Cleveland, Ashland or Columbus, Ohio, and find out if Cyberhair is the hair loss solution you've been looking for. With over 40 years experience, Van Scoy Hair Clinics have the experience to address every type of men's hair loss. Our experienced, professional staff will assist you in identifying the best approach to answering any questions. Your free consultation is without obligation.
GET STARTED WITH A
FREE CONSULTATION
Whether you are experiencing thinning hair and want to stop your hair loss, or want more hair, we provide the most advanced and effective hair loss treatment and hair restoration procedures for men and women of all ages and hair types.
Trust. Care. Confidence.
All of our services are provided with your complete privacy in mind. We provide a discreet, confidential, professional atmosphere which all our patients appreciate, especially those whose work places them in the public eye.
Get Answers Today
RESTORE YOUR HAIR. RESTORE YOUR LIFE. Schedule a free, private consultation today.