Contact Us
Your Home for Trusted Hair Loss Solutions Since 1969
PROVEN HAIR LOSS SOLUTIONS FOR MEN & WOMEN
Van Scoy Hair Clinics – How Can We Help?
YOUR JOURNEY STARTS HERE
A person's appearance is important. And how your hair looks is a huge part of that. Get in touch with a Van Scoy hair restoration specialist today and get answers to all your questions, without obligation. If you wish, you can contact us at (866) 601-6599.
When it comes to hair restoration, we 've been helping men and women across Ohio for over 47 years restore their hair, and their confidence.
GET ANSWERS TO YOUR QUESTIONS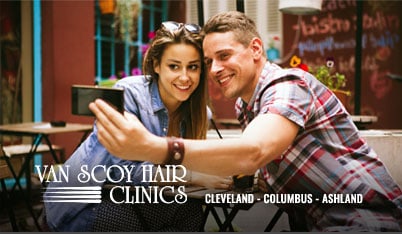 OFFICE HOURS
Monday – 9:00am – 5:00pm (Ashland Only)
Tuesday – Thursday – 10:00 am – 7:00pm
Friday – 9:00 am – 5:00pm
Saturday – 9:00 am – 1:00pm
Sunday: Closed
Van Scoy Hair Clinics
CLEVELAND CLINIC
5592 Broadview Road; Parma, Ohio 44134
216-307-4499
ASHLAND CLINIC
608 Claremont Avenue; Ashland, Ohio 44805
419-922-9300

COLUMBUS CLINIC
90 Northwoods Blvd; Columbus, Ohio 43235
614-721-2500