Laser Hair Loss Treatment
Hair Restoration with Laser Hair Therapy
Hair Loss Treatment & Prevention for Men & Women
Low Level Laser Hair Growth Therapy
Laser Hair ReGrowth Therapy for Hair Loss
For men and women with genetic, hereditary hair loss and thinning hair, low-level laser hair therapy reduces hair loss and helps stimulate healthy hair growth. With regular laser hair therapy treatments, low-level laser light treatment has been clinically proven to reduce hair loss, stop hair fall, and stimulates thicker, fuller, healthier looking hair.
FDA Cleared Treatment for Hair Loss and Thinning Hair
Low level laser hair therapy is a non-invasive breakthrough that is revolutionary for both men and women suffering the devastating effects of androgenetic alopecia or male and female pattern baldness.
With low level laser hair therapy, you can achieve thicker, fuller, shinier, and healthier looking hair.
Low level laser therapy treatments utilize a device containing up to 30 therapeutic soft low level light lasers which delivers light energy directly to the scalp.
Developed in Europe for improving hair shaft quality and volume while prolonging the life of hair color and improving hair colors and perms.
This breakthrough technology has recently been featured on national newscasts across the country. Physicians are praising this technology as an effective way to improve hair quality and volume.
The Benefit of Low Level Laser Hair Treatment
Increases the blood supply to the scalp by 54% after only one treatment.
Stimulates hair follicles.
Stops the progression of hair loss in 85% of patients.
Increased hair strength and elasticity.
Fuller, shinier, softer, thicker hair.
For Post Operative Transplant surgery, Laser Therapy will help newly transplanted hair to thrive and increases the healing process.
Repairs damage normally caused by chemical services.
Delivers light energy directly form different positions without loss of light properties to insure appropriate dosage.
Laser Hair Therapy – Photo BioTherapy
Low Level Laser Light has been used for numerous conditions in Europe for over thirty years and has been the subject of over 2,500 scientific papers, published worldwide. There are no reported side effects to the treatment which is painless, and non-toxic.
Until recently, laser treatment has been relatively underutilized in North America. Today, however, there is increasing awareness and acceptance of low level laser among practitioners.
International practitioners are realizing the real benefits of laser hair therapy more than ever. North American consumers have been increasingly willing to try alternative treatments. Low level laser therapy is non-invasive and without any known side effects.
What is Low Level Laser Light?
Low level laser light is compressed light of a wavelength from the cold, red part of the spectrum of electromagnetic radiation. It is different from natural light in that it is one precise color; it is coherent (it travels in a straight line), monochromatic (a single wavelength) and columnated (it concentrates its beam in a defined location or spot). These properties allow laser light to penetrate with no heating effect, no damage and no known side effects.
For many years, leading hair restoration clinics and salons around the world have been using Transform Technologies 'cold-beam' laser technology for individuals suffering from problem hair conditions. It is a Low Level Laser Therapy (LLLT) that works by increasing blood flow to the scalp and hair follicles, encouraging hair volume and healthier hair. The unique laser light penetrates into the scalp tissue where it stimulates the microcirculation and improves cellular metabolism and protein synthesis.
Who is the Best Candidate for Laser Hair Therapy?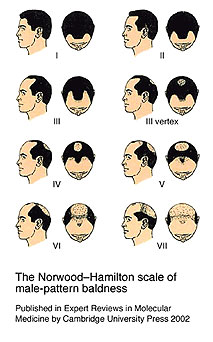 Anyone experiencing hair loss. Low level laser hair therapy is the long anticipated answer for the hair transplant specialist challenged by the ineligibility to perform transplant procedures on certain individuals primarily due to the following scenarios:
Patients with early stages of hair loss — typically those individuals presenting with hair loss equivalent to Norwood 1-3 — with too much growing existing hair on the top of the head so that the option to transplant hair from the back of the head or "donor area" would cause "hair shock" or "hair trauma" to existing growing hair, thus accelerating loss of existing hairs.
Women that experience general thinning throughout including the sides and back area where a transplant specialist would typically harvest the donor site.
Laser Hair Therapy has been shown to be especially effective combined in a multi-therapeutic hair loss treatment program.
Laser Hair Loss Treatment: Is It Safe?
Absolutely! Low level laser hair therapy meets all international safety standards and legislative specifications of a "non-significant risk" product. Low level laser hair loss treatment is proven safe, classified as a Class IIIA cosmetic laser.
The energy produced by the photons does not have the thermal component to cause thermal injuries to users or operators. Laser light energy does not change or alter molecular structures.
There have been no side effects of the treatment reported and to give you an idea to what extent our treatment method has been used, an average example is from treatment centers in Finland where specialist have been offering the laser hair treatments for 11 years and during that period performed over 20.000 laser procedures, each without any side effects.
How Soon Will I See Results?
Reduction in the appearance of hair loss usually occurs after five to six treatments. Some patients have also reported the appearance of hair growth after 10-12 treatments. Over time, all users, both men and women, usually notice progressively increasing benefits of the treatment program.
GET STARTED WITH A
FREE CONSULTATION
Whether you are experiencing thinning hair and want to stop your hair loss, or want more hair, we provide the most advanced and effective hair loss treatment and hair restoration procedures for men and women of all ages and hair types.
Trust. Care. Confidence.
All of our services are provided with your complete privacy in mind. We provide a discreet, confidential, professional atmosphere which all our patients appreciate, especially those whose work places them in the public eye.
Get Answers Today
RESTORE YOUR HAIR. RESTORE YOUR LIFE. Schedule a free, private consultation today.